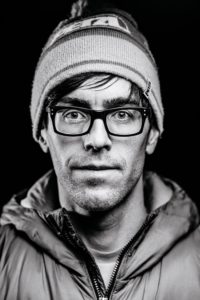 Andy is an adventure photographer and videographer formerly based in Chicago and currently traveling the nation with his wife, Jess, and their mobile practice, Silver Egg Studios. His photos have been published in numerous periodicals—Climbing Magazine, Rock and Ice, and Blue Ridge Outdoors—as well as area guidebooks. He has been invited to document climbing events at: the Vail World Cup, Hueco Rock Rodeo, Psicobloc Masters Series, International Climbers' Festival, and at various local competitions. He has supplied advertising and social media content to many outdoor brands, including: Five Ten, Friction Labs, Organic Climbing, Petzl, Adidas Outdoor and SoiLL. In addition to his photo work, Andy regularly works as a graphic designer for CAMP USA. 

Work with Andy
Video  |  Michaela Kiersch and the Golden Ticket
---
In 2017, Andy collaborated with Brandon + Gabi Fox of Just Go Climb to create a short film chronicling Michaela Kiersch's historic ascent of The Golden Ticket (5.14c). It has been viewed more than 250,000 times online and was recently selected for the 2017/18 Bright Mountain Film Tour in Victoria, Australia.
Watch The Golden Ticket